Mammoth helps you reduce the cost and complexity of pricing, purchasing and delivering local access to your End Users. Our Layer 2 aggregation model aggregates access circuits across multiple carriers and multiple LATAs to a single Network to Network Interface (NNI.)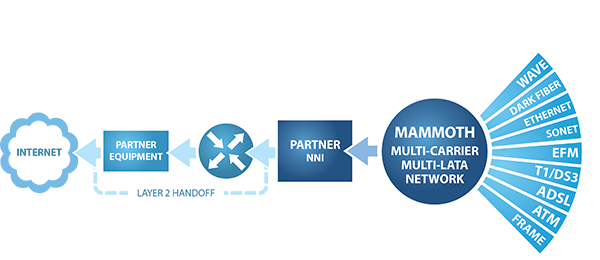 Mammoth's aggregation model has standardized Ethernet delivery across multiple circuit types and technologies. Our network is capable of supporting products as current as Wave and products as old as Frame Relay and point-to-point T1s, all of which can be aggregated to a single NNI.
The ability to aggregate access technologies onto a single platform allows you to quickly expand into new markets without capital expenditure. Mammoth handles all equipment, points of presence and long-haul circuits to deliver your End User circuits to your NNI with Mammoth. This allows you to focus on your business while our staff manages carriers and their agreements, cross-connects and deployments.
You manage one provider. You receive one invoice. You call one number for support.
Mammoth wholesales NNI aggregation to:
ILECs
CLECs
Cable Companies and MSOs
Cellular Providers
Data Centers
National Carriers
PUDs and Electrical Utilities
Regional Fiber Providers
VoIP Providers and ITSPs